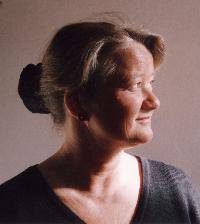 Beate Strindberg
Beate Strindberg (b. 1956 / Oslo, Norway), has her education from the Norwegian School of Arts and Crafts and the Norwegian Academy of Fine Arts. Beate Strindberg works with a variety of graphic techniques such as cold needles, woodcuts and combinations of woodcuts and material prints, and mostly prints the images herself on the hand press in her own workshop.

Strindberg is represented in several public collections, including the National Gallery, and in the books "Norwegian Illustrators" and "Art in Østfold", and has had decoration assignments at Askim hospital, Det Norske Veritas, Høvik and at Knapstad school in Hobøl.

Beate Strindberg works mainly abstractly and is concerned that the image will reflect the sound colors, rhythm and energy of an experience, whether it is from nature or from music.