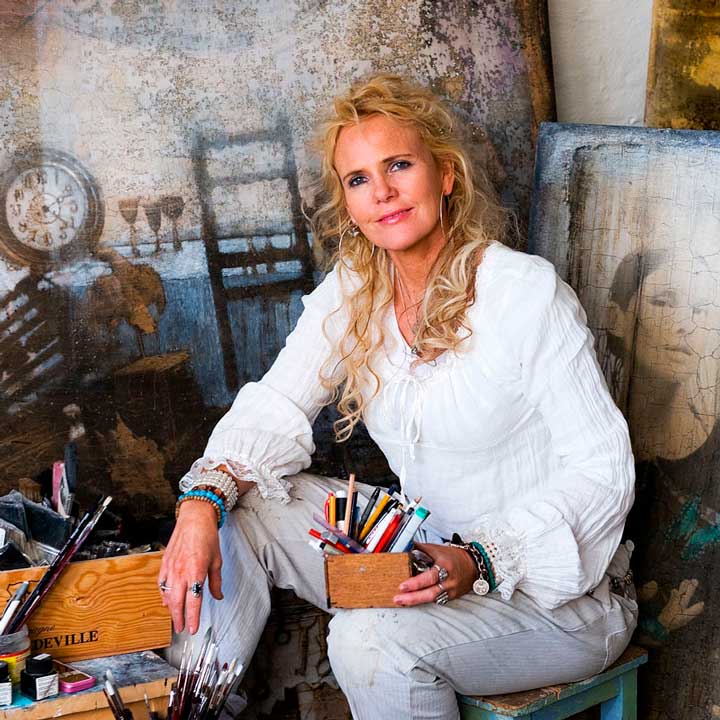 Elisabeth Werp
Elisabeth Werp (b. 1958 / Norway), has developed a very special and unmistakable style in which technique and symbolism blend into one another in a symbiotic form expression. The motifs are dreamlike, symbolic, figurative, but with an abstract content. A bicycle wheel does not necessarily depict a wheel, but the ever-recurring one. An old table and chair is not furniture, but clear signs of people's presence and wonder about the life that was here, is here, or will be returning.

Elisabeth Werp is educated at the National Arts and Crafts School and the National Academy of Arts. She met many talented teachers, both inside and outside the school, such as Ørnulf Opdahl, Per Kleiva, Steinar Christensen, Lars Vilks, Ludvig Eikaas, Irma Salo Jæger, Odd Nerdrum, Leonard Rickhard and Bjørn Carlsen. She holds her first separate exhibition at Young Norwegian Artists in 1991. She has since exhibited in the Artists' Association, at the Autumn Exhibition, Henie Onstad Art Center, Blaafarvværket and the Stenersen Museum.

Thematically, Werp's images are about longing, melancholy and abandonment. Among other things, she has worked extensively with lonely rooms, rooms that all guests have left and who are left alone, as well as the contrast between the fragile and the strong. The fragile can also represent the thin distinction between great contrasting couples such as life and death, sorrow and joy, love and powerlessness. They are so different and contradictory, at the same time that they lie and vibrate close to each other all the time, separated only by a thin fragile membrane - there is a short distance between two such contrasting properties. Expressing this experience of duplicity in life through painting is a major and important challenge for Werp.

In recent years Werp has had several major exhibitions abroad, including in Paris, Salzburg, Florence, Seattle, Miami and London.