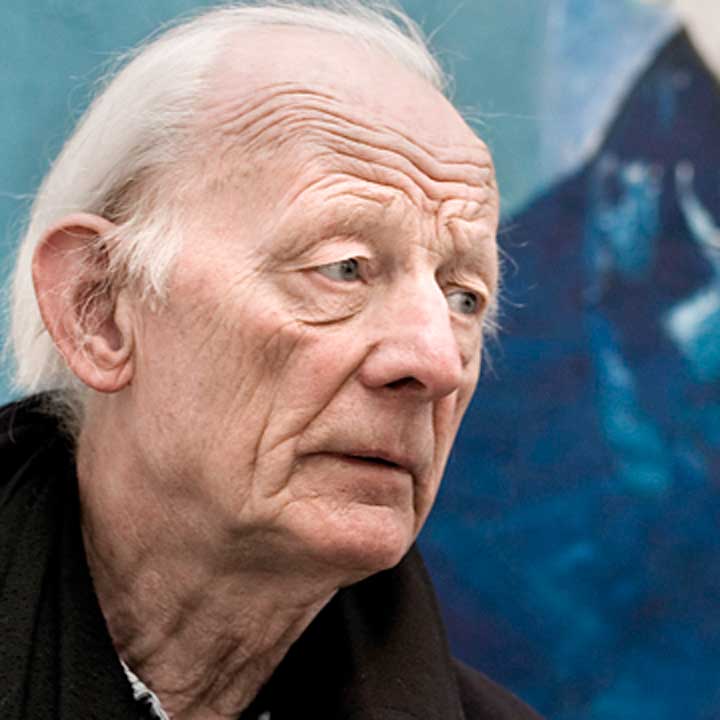 Håkon Bleken
Håkon Bleken (b. 1929 / Trondheim, Norway), has been one of the most prominent figures in Norwegian art life, and he is regarded as one of our foremost contemporary artists. He has made a clear mark on the development of painting, drawing and graphics here in Norway.

Since its debut in 1951, Bleken has had numerous exhibitions in the country's most important galleries. National Gallery and Henie Onstad Art Center. Nevertheless, Paleken was rejected by the Autumn Exhibition the whole nine times in a row.

In his career, the ink has gone in the opposite direction of what many visual artists do. He started with a fairly abstract imagery in the 1960s. Like a number of Norwegian artists after the war, Bleken was influenced by Georg Jacobsen's constructivist theories. At that time, Paleen was part of Group 5, an artist group that grew out of the environment at the Institute of Form and Color at NTH in Trondheim. The other members of this group were Ramon Isern, Halvdan Ljøsne, Lars Tiller and Roar Wold. Futuristic displacements in the surface and cubist abstraction were important to the group, with role models in Georges Braque, Juan Gris and Pablo Picasso.

Håkon Bleken was born in Trondheim on January 9, 1929, and is still a central person in the city where he lives and has his studio. He was educated at the State Academy of the Arts 1949-53 under Professor Jean Heiberg, and in 1950 he attended the rowing class at the State Craft and Art Industry School under Chrix Dahl.

In addition to charcoal drawings and painting, Bleken has made a strong impression as an illustrator for several literary works: Ibsen's Hedda Gabler, Dalen Portland by Kjartan Fløgstad, Haugtussa by Arne Garborg, Mysteries by Knut Hamsun and Babette's guest party by Karen Blixen.

He has several significant decorating tasks behind him, such as in St. Olav's church and Olavshallen in Trondheim, in Oslo Concert Hall and at Oslo Central Station. He won the competition for the official signings of King Harald and Queen Sonja, and the picture hangs today in the Stiftsgården in Trondheim. The ink has portrayed several well-known figures, among others. King Olav and Wenche Foss. In 1999 he was appointed to the Order of St. Olav, a knight of the first class, and in the fall of 2005 he received the Anders Jahres Cultural Prize.
New artworks coming soon!