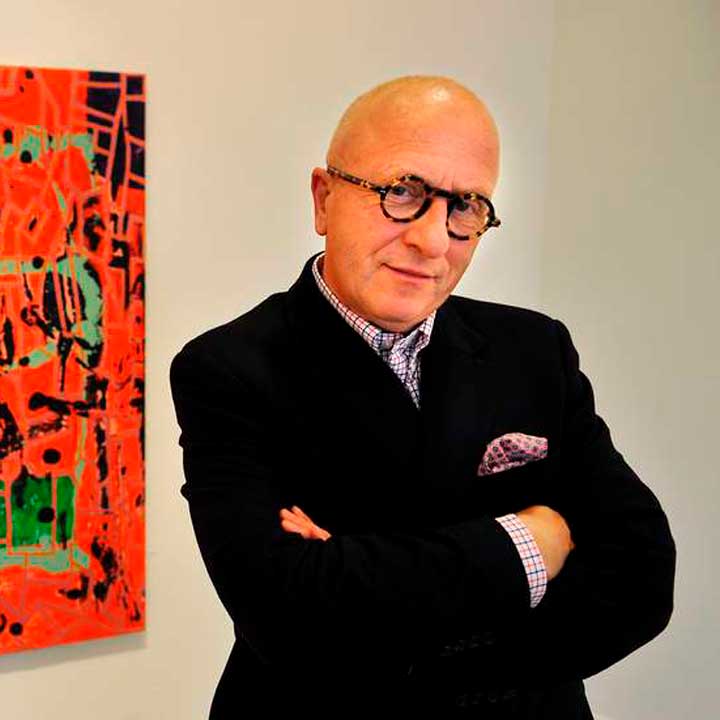 Killi Olsen
Kjell Erik Killi Olsen (b. 1952 / Norway), is known for its free-form visual imagery that has aspects from both primitive visual art and today's urban street graffiti. His distinctive and colorful images of characters with long arms, pointed tits and penises make an impression. Art almost always has two sides; beautiful and ghastly all at once.

Killi Olsen has been described as the pop star of art. He lives in something reminiscent of a castle in France, dresses in glamorous and colorful clothes, wears cool glasses like flowers-Finn and creates art that strikes right in the heart. He earns millions on paintings and sculptures and when he opens exhibitions in New York or São Paulo, around 50 fans are happy to accompany him. So, over the last 20 years, Killi Olsen has also been one of our most profiled and recognized contemporary artists. He has received several awards in Norway and has regular exhibitions all over Europe and America.

Kjell Erik Killi Olsen now holds many places, one of which is on Heggholmen in the Oslofjord, another is a 1000 year old stone house in Provence. He has many merits to look back on that have remained standing in the history of art. Salamander night is perhaps the biggest. In 1989, the artist moved to São Paulo for nine months to create the Norwegian work of art for the São Paulo Biennale - one of the world's largest art biennials. The inspiration came from the destruction of the rainforest. In 1989, the enormous work of Salamander Night was seen by 600,000 people in Brazil. Some cried in the face of the characters. The shapes are covered in sand from the streets of Brazil and stand close in dense. An entire house was built for Killi Olsen's 72 sculptures. The 72 sculptures are all over 3 meters high. The room they were shown in was 6 by 14 feet, 5 feet high and completely black, with a single strip of light. In the middle sat a woman and diet a salamander. Then the installation was in stock for 16 years before being shown at the Henie Onstad Art Center this year.
New artworks coming soon!