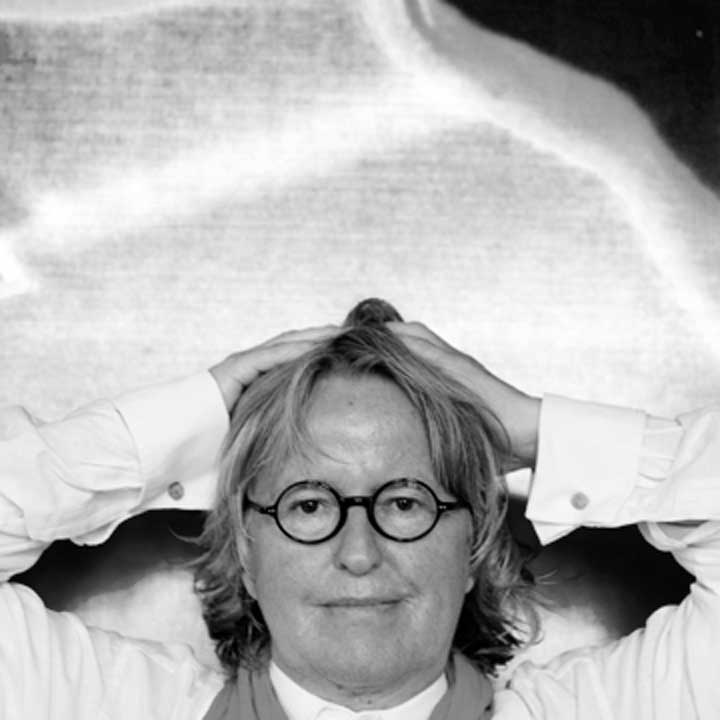 Marianne Heske
Marianne Heske (b. 1946 / Ålesund, Norway), is an artist with great international impact and appeal. She has performed artist collaborations in countries such as Nepal, China, Zimbabwe and South Africa, yet her upbringing in the small and almost isolated village of Tafjord on Sunnmøre has left her deepest mark in her art.

The interaction between man and nature has been a central theme throughout Heskes career. How natural disasters are constantly threatening in the background of wiping out everything that man has strived to build. In her video paintings, she recounts the natural disaster in abstract terms, perhaps the only way one can cope with such a powerful and destructive experience and power.

Kunst, natur og teknologi smelter sammen i en større enhet i Marianne Heskes arbeider. Hun arbeider innenfor svært mange og ulike medium: litografi, offset, bøker, plakater, postkort, fotografi, video, "datamaleri", lyd, objekter og installasjoner.

Marianne Heske har sin utdannelse fra Bergen Kunsthåndverkskole, Ecole Superieure des Beaux-Arts i Paris, Royal College of Art i London og Jan Van Eyck Academie i Maastricht. Debututstillingen hadde hun ved Cité Internationale des Arts i Paris i 1973, og siden har hun hatt en rekke utstillinger ved anerkjente gallerier både i inn- og utland. Hun er innkjøpt av alle landets største museer og gallerier, samt en rekke internasjonale, som Centre Georges Pompidou i Paris, Shanghai City Art Collection i Kina og Pusjkinmuseet i Moskva, som første norske kunstner siden Edvard Munch.