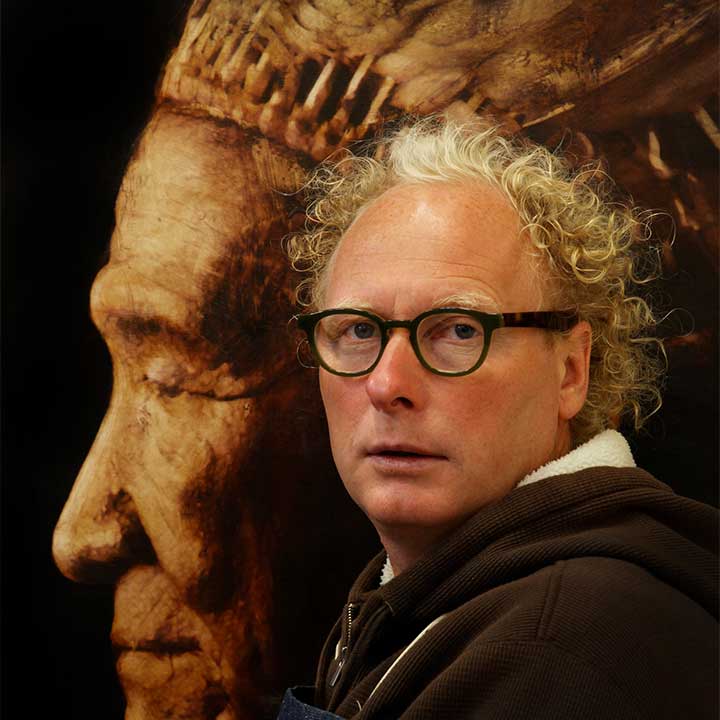 Per Fronth
Per Fronth (b. 1963 / Kristiansand, Norway), is an internationally reknowned Norwegian artist, represented by galleries and museums worldwide.His works are in the permanent collections of Museum of Modern Art, Wakayama, Japan, Sørlandet Kunstmuseum, Norway, as well as in numerous private collections, including Sting & Trudie Styler and former US Vice President and Nobel Peace Prize Laurate Al Gore.

Per Fronth is one of Norway´s most popular - and controvercial artist; his works receiving admiration from collectors, critics and public alike - resulting in a string of sold-out exhibitions in both New York and Norway.

Fronths storylines often includes challenging aspects of the Human Condition. He has made many controversial - and yet successful exhibitions, like the Xingu Chronicles, New York, 1998 about the peoples of the brazilian rainforest, Bloodlines, London, 2001, focusing on the now outlawed English foxhunt with Prince Charles - and his major series Theatre of War, about the struggle in war-torne Afghanistan and Norwegian forces, soldiers and exporters of fragile democracies.

In 2015 Fronth was elected Olsok Artist at Stiklestad National Cultural Center, the site where King Olaf Haraldsson II. died on the battlefield on July 29th 1030. He is widely known as the man who brought christianity to Norway and consolidated and developed the power structures of the state. Later he was sanctified by the Catholic church as the only saint from the Nordic countries, known as St. Olaf.