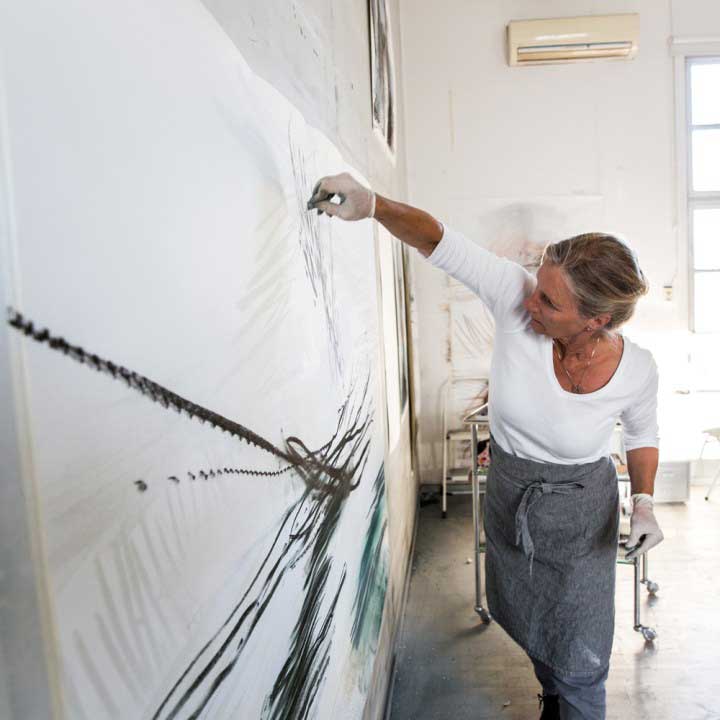 Runi Langum
Runi Langum(b. 1958 / Drammen, Norway), is educated at the Academy of Fine Arts in Trondheim, and at the prestigious olecole Nationale Supérieure des Beaux Arts in Paris where she specialized in drawing and received 1st prix de desin in 1986. She works as a painter and graphic artist.

As a graphic artist, Runi Langum mainly works with lithographic techniques. Her motive use consists of people and nature made with commodity, flowing lines that contrast with expressive projections. The line is seismographic. In this way she creates a figurative idiom in which the motifs are set in motion in the image. She has also drawn on stone. There are two sculptures with relief in the Drammen Elveparken Drammen. A similar decoration stands in front of Viken Skog, Hønefoss.

Runi Langum is represented at a number of galleries in Norway, and has exhibited at the Stenersen Museum, Haugar Vestfold Art Museum, Trondheim Art Association and Gallery Ismene. In addition to exhibitions in Norway, she has exhibited a number of times, including in France. Her art has been purchased by, among others, the National Museum of Art, the National Gallery, the Norwegian Cultural Council and the Haugar Vestfold Art Museum.