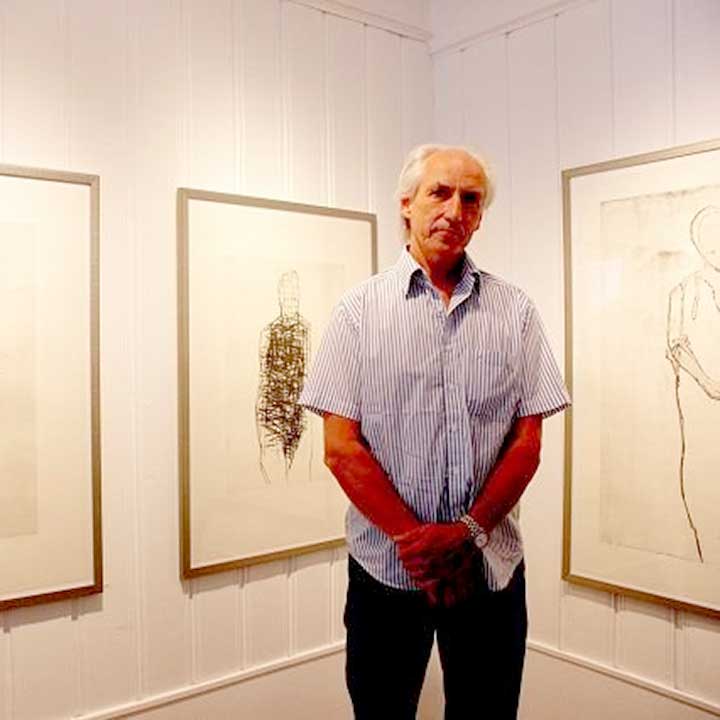 Terje Resell
Terje Resell (b. 1949 / Oslo, Norway), is known for his delicate and expressive strokes that express a duration in his imagery.

Resell's dash is simple and suggestive. His people and characters live in a universe that we can recognize, but in the pictures there is neither sadness nor joy, but a kind of ambiguity that the audience can interpret themselves. As the artist himself says: "I try to express some of what it means to be human. I am working to make the line come alive. The work is in the sketches I make, which can take time. In the record itself, it has to happen at a certain speed to get it spontaneous. The job is in a way like before I grab the copper. The needle's walk in the plate brings life to the line."

Terje Resell shows a balanced interaction between graphic materiality and drawing style in which he utilises the aquatint's surface effect and the cold needle stretching effect. He creates a mood that draws the audience into the motifs. The lines and figures appear fragile and strong at the same time, exposed and covered, human and inhuman.

Today Resell lives in Fredrikstad. Resell has had a number of separate and collective exhibitions at home and abroad in recent years. He is educated at the National Craft and Art Industry School and has been purchased by, among others, the National Gallery, the Norwegian Arts Council and the Bergen Picture Gallery.