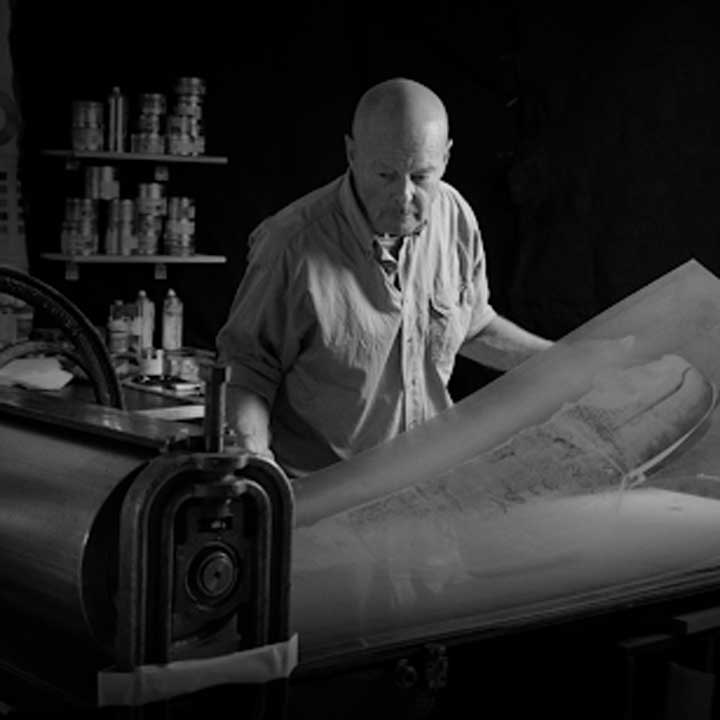 Terje Risberg
Terje Risberg (b. 1949 / Norway), is educated at the National Craft and Art Industry School and the National Academy of Arts. He works as a graphic artist.

With gravure printing techniques, including intaglio, terje risberg works out a form expression that is aesthetic with evocative landscapes as motif. With his pure forms and aesthetic expressions, he works to give the elements an identity, a greater meaning as part of the great force of nature.

"I seek landscapes that are pure nature, stripped of the traces of culture. When nature becomes strong, its inexorability and indifference to all human beings appear. Nature denies all our attempts to humanize it. This tells me something about our smallness and our volatility. Through the structure of culture we seek to defend ourselves against the realization of our vulnerability, but this defense becomes only a thin varnish, because we ourselves are a piece of nature, so we become a piece of nature that reflects in another piece of nature. the pain that arises in this meeting is my real theme. "

Risberg has had a number of exhibitions at home and abroad. He has exhibited at, among others, the Artwork Gallery, Norwegian Graphic Artists, Gallery F-15, Aalesund Art Association, Space Group Art Gallery Seoul, MOA Art Gallery Seoul, Hanoi International Cultural Center, Wonju Print Exhibition Korea, Grafikens Hus Sweden, Bie & Vadstrup Copenhagen, Arabia Center Helsinki, and the European Academy in Berlin. His artwork has been purchased by, among others, the National Museum of Art, the Norwegian Cultural Council, the National Gallery, the National Library, the Norwegian Parliament, the Royal Palace, the EFTA Court in Luxembourg and Grafikens Hus in Sweden.