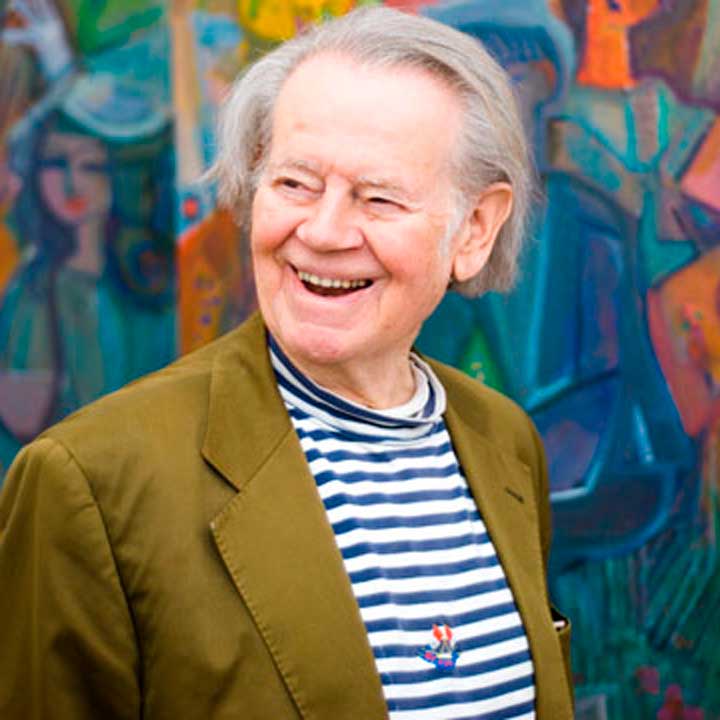 Thorstein Rittun
Thorstein Rittun (b. 1929 / Skien, Norway), paintings is a happy picture universe. There is summer, youthful play, sensual emotions and energy all year long, in clear, beautiful colors with even more beautiful children, women and men. Here are no difficult symbols or moral sermons painted. Just a message about enjoying life and being human and having people around them. The pictures consist of figure groups where everyone dances, plays and plays, or they just enjoy and show unity and kindness to each other or trees, flowers, followers and animals.

It all started as a little boy in Skien. His father got it arranged so that the talented son got Jacob Eng as a drawing teacher at the Latin School. In 1947-1950 Rittun moved from Skien and entered the Academy of Art with Per Krogh as teacher. The attitudes and environment of the academy became very important to Rittun. Two years later he debuted at the Autumn Exhibition, and has since participated a number of times. He had his first separate exhibition symbolically enough in the birth town of Skien in 1955. He has since made a number of public and private decorations and the list of separate exhibitions is very long both chronologically and geographically. He has over the years been very much involved in the art and cultural debate and has held a number of key positions of trust in artist organizations.

Rittun's pictures celebrate the humor and the bright sides of life. If you are looking for melancholy you must go completely elsewhere. Once, Rittun tried to paint gloomily. It was during the decoration of Gravberget church in Finnskogen. At the entrance to the modern stave church he painted the crucifixion, but received strict instructions from the town hall architect Magnus Poulsson to paint it over. Therefore, ascension instead - no doubt more fitting to Rittun's spirit as we got to know him.
New artworks coming soon!