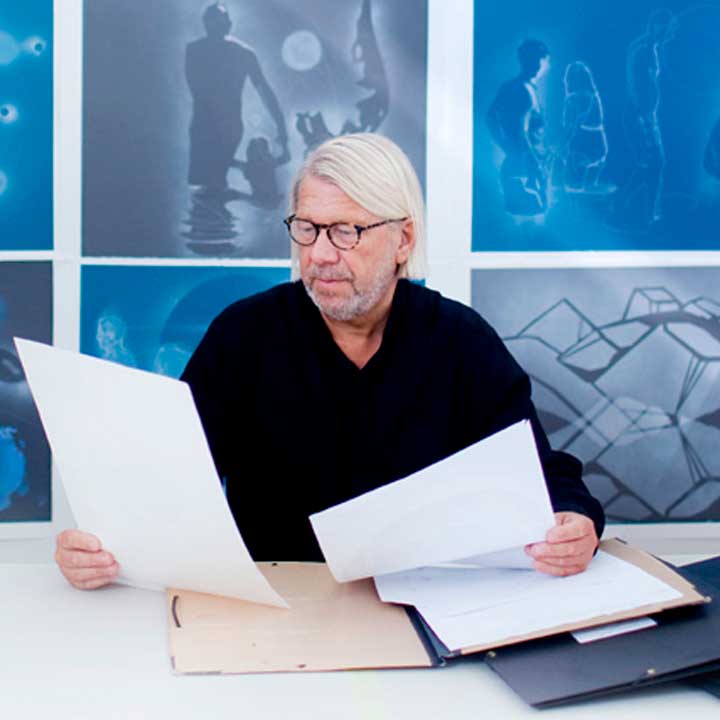 Ulf Nilsen
Ulf Nilsen (b. 1950 / Trondheim, Norway), is one of Norway's most famous artists who has exhibited at a number of our heavy institutions: In 2004, he filled the two large prize rooms at Henie-Onstad Art Center with brilliant criticism. He has also exhibited at gallery Haaken and the Artists' Association in the 1990s. Last year he surprised with floral motifs at the Baroniet Rosendal. This summer he has been seen by over 100,000 people at the Blaafarvværket, and in September 2009 a new separate exhibition opens at the Stenersen Museum.

Ulf grew up in a strong religious home in Trondheim. In faith he found strength and love, and it gave him strength when, as a seven-year-old, he got tuberculosis. For a year and a half he was admitted to the Nylandet sanatorium outside Trondheim. The treatment consisted, among other things, of isolation in a dark room, of which seven months on the back. Fast Bound. Because the doctors believed that arousal and strong emotional fluctuations could aggravate the illness, parents did not promise to visit him.

Today Ulf is a renowned visual artist. The National Museum of Art owns nine of his paintings, Astrup Fearnley Museum fm, and he has also been purchased, among others, by the Royal Palace, the New York Public Library and the Rogaland Art Museum. Many have claimed that Ulf started as an artist to find new ways of communicating, or what Ulf calls passages in to other people. His childhood was marked by silence because he stammered so violently. He himself wrote that it was impossible to get acquainted with anyone and make friends. No one had patience, and his frustration grew with the need to express himself. Preferably, he remained silent.