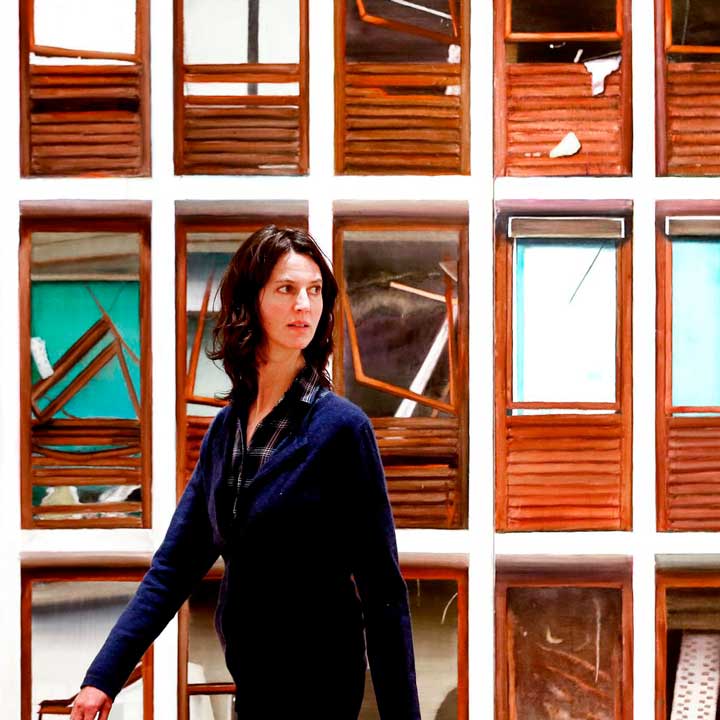 Vibeke Slyngstad
Vibeke Slyngstad (b. 1968 / Aalesund, Norway), is a Norwegian painter and artist. She grew up in Ålesund, and now lives in Oslo. She has a degree from the School of Arts and Crafts (Meisterschule für Malerei und Bildhauerei) in Graz, Austria 1988–89 and the National Academy of Fine Arts, Oslo 1989–94.

She has since participated in a number of exhibitions and has been purchased by several central collections, including the National Museum. Among other things, she has exhibited in Galleri Haaken, Oslo, Bergen Kunsthall, Gallery F 15, Moss, in Aalesund's art association, in Kunsthalle Rostock; and participated in the decoration of Bjørknes private gymnasium and Olav Sunde a / s in Ålesund and the science building at the Norwegian University of Science and Technology.

Slyngstad works with a figurative painting that deals with how the perception of reality is already mediated through film and digital images. The compositions can be reminiscent of stills or images created through the optics of photography. They also have a penetrating light that creates a feeling of weightlessness and transparency.